News
24 august 2017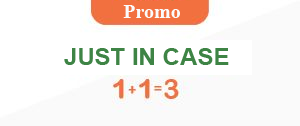 Advertising action "Just in case" is intended for provident users!
Do you like to spend money cleverly? So this advertising action is special for you!
Buy any two licenses of the same nominal and get third license absolutely free! Only from 25 August till 25 September 2017.
10 august 2017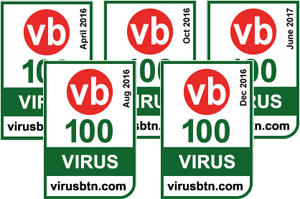 We are proud so much to claim our fifth VB100 certification! Out product NANO Antivirus Pro achieved its first VB100 in 2016 and we worked hardly to earn it. And now we celebrate already the fifth confirmation of highest quality and reliability of our product from Virus Bulletin, one of the world leaders in security software testing.
VB is the most know and mature testing laboratory based in Great Britain. They perform tests of anti-malware products starting from 1998. Some words from the VB100 team:
"NANO has impressed over the last few tests with a steady trend of improvement across the board".
"The product looks clean and simple, and managed to complete all tests without the slightest sign of instability."
"The product is clear and easy to use, and proved remarkably stable under the heavy strain of our testing processes, showing no signs of stability issues at all."
"NANO should be proud of its performance in our tests of late, picking up its first few passes and showing every sign of becoming a solidly dependable product.".
19 june 2017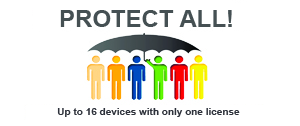 Wonder how many licenses you need to buy to protect all your devices? Stop to break your head! Buy the dynamic license of NANO Antivirus Pro and save time and money!
You can buy the most popular and called for NANO Antivirus Pro 1000 days of protection per 1000 rubles instead the regular price 1299 rubles! You can protect up to 16 devices with the only one license.
Only from 21 June till 31 July 2017.
24 april 2017

In accordance with the laws of The Russian Federation, customers are obliged to restrict their purchase of software for government and municipal organizations by domestic software. The restriction came into effect from 1 January 2016.
NANO Antivirus Pro is included into the Russian Software Registry so its domestic origin is officially confirmed and our product may be used by any Russian organizations.
17 april 2017
There are no translations available.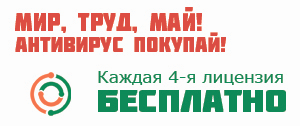 Чтобы ничто не могло помешать эффективной работе в небезопасный век цифровых технологий, необходимо надежно защитить рабочие компьютеры от вирусных угроз.
Мы предлагаем нашим настоящим и будущим пользователям акцию, которая позволит сделать это легко и с выгодой!
В период с 17.04 по 31.05.2017 при приобретении продуктов «NANO Антивирус Pro для бизнеса» каждую четвертую лицензию наши покупатели получат бесплатно! Подробнее – на странице акции.