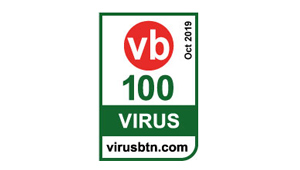 NANO Antivirus Pro has the thirteenth VB100 certification award to add to our collection! The product demonstrate the highest quality for years and it's remarked by the VB100 test team: "Nano Security shows its antivirus product continues to keep up with the latest threats in the ever-changing malware landscape, thus proving that its in-house built antivirus engine is a match for many of its big-name competitors".
The VB100 test laboratory (Great Britain) is one of the known world leaders in the antivirus testing area. It performs tests that are accepted all over the world for more than 20 years.
100% detection of the special malware set and the great result of the processing of the clean set were confirmed within the testing. Also NANO Antivirus Pro demonstrated the 100% detection on the additional malware set which exceeded the result of some world leaders. To see the full report on the testing laboratory site.