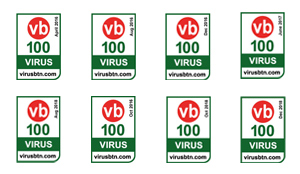 One more award VB100 takes the honored place in the list of our achievements!
We are happy to inform that NANO Antivirus gets the eighth confirmation of its highest quality from the VB100 test laboratory!
The VB100 test laboratory (Great Britain) is one of the known world leaders in the antivirus testing area. It has a rich history. The first tests were performed in 1998 and the badge VB100 became the unconditional sign of quality for antivirus products all over the world.
NANO Antivirus again showed great results in the complicated tests. It gives us one more reason to be proud of the product which we develop.
To know more about the result of the recent test.