NANO Antivirus White Label
NANO Antivirus White Label is white label security software for anybody who wants to have their own branded antivirus solution. Do you want to get your own antivirus with your name, logo, localization, functionality? Just imagine how much time do you need to develop your own antivirus from scratch. Besides, you will need financial resources, expensive infrastructure, and highly skilled team.

NANO Antivirus White Label saves you money, efforts, and time! You just describe to us your requirements and get your own antivirus in the shortest time. You don't need to be an IT person to get your own antimalware solution. So you can start your own antivirus business quickly and smoothly with our OEM solution. You care only about your business and we care about all technical matters!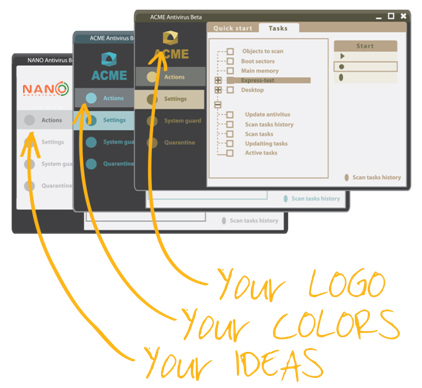 Do you need an OEM Antivirus solution?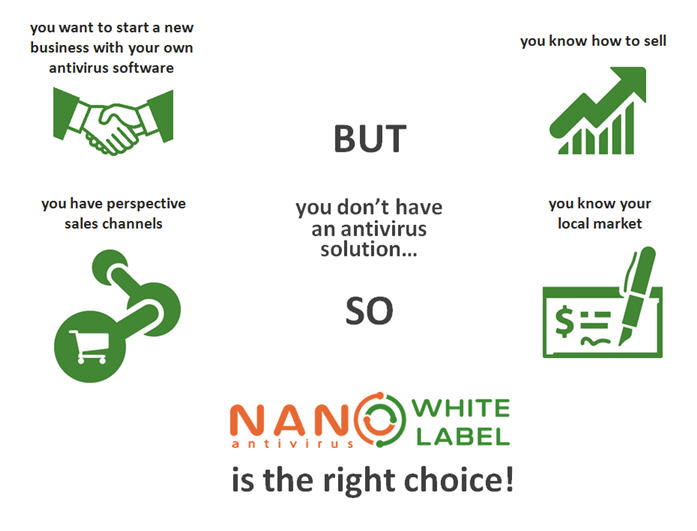 Our company is one of the first-level producers. We hold our own patented antivirus technologies and all infrastructure to create new ready-to-use antivirus solutions. We have a professional development team and own virus laboratory, which is monitoring topical cyber threats in 24*7 mode. Our own QA and tech support provide the high quality of development and maintenance of software. So we know how to do all our best to give you a quality product.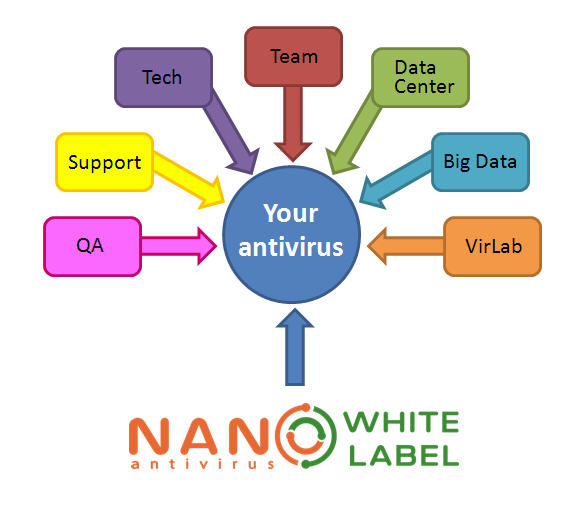 Benefits of NANO Antivirus White Label
The unique combination of low price and high quality.

The platform provides protection against all kinds of malware.

Tailor-made functionality for your product.

Flexible pricing policy.

The high speed of market entry.

Full professional second-line support.

Improvements of malware detection and bug-fixing of the product.

Comprehensive testing of all new versions in according to the high standards of quality assurance.

Different variants to build infrastructure for update delivery.

The quality is confirmed by VB100 tests and other well-known testing and certifying authority.

The platform is officially recommended for Microsoft Windows.
Download the presentation of NANO Antivirus White Label
We are glad to answer all your questions, to offer an optimal decision on the basis of your terms and budget. Send us your request via the form below. Please specify your email where we will send our reply.
Also, you can contact us by e-mail company@nanoav.ru.